Pinoy tagalog bible for Android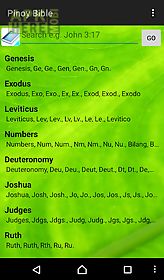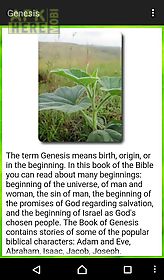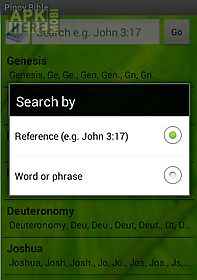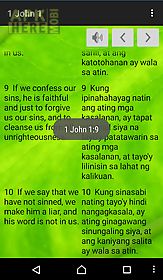 Pinoy tagalog bible app for android description: English tagalog diglot bible for everyone pinoy bible is free and searchable.
If after an upgrade the app does not work anymoreor if a verse is missing please try to: - uninstall pinoy bible - delete the file 39 pinoybibledb 39 on your sd card - make sure sd card has 12mb free space - then install pinoy bible again.
Kjv audio bible is now added.
Also you can add delete or rename a bookmark.
Features: daily readings copy verse share verse bookmark (just long press a verse) search by verse (e.
G.
John 3: 17) search verse by word or phrase (just click upper left icon on home screen) search book by name or abbreviation jump to a specific verse navigation between books chapters share verse (just long press the specific verse)this bible app uses the following versions: king james bible (1611) and ang biblia (1905).
Both versions 39 copyright are now in public domain.
Except for king james whose copyright is still applicable in great britain.
The daily readings is based on morning evening by charles spurgeon.
The memory verses are based on topical memory system (tms) by the navigators.
If you find pinoy bible helpful please recommend it to others.
: )We are open for suggestions.
More features will be added in the future.
Your rate for pinoy bible means a lot...
Thanks.

Related Apps to Pinoy tagalog bible