Phone.com - mobile office for Android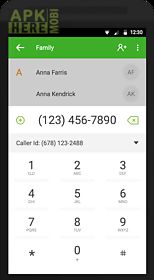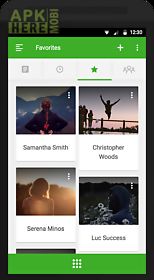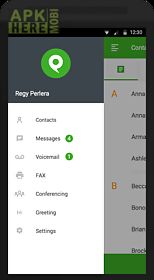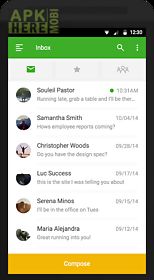 Phone.com - mobile office app for android description: Introducing for android.
Download and sign up for your free 30 day or 100 minute no commitment trial of.
For android brings all your cloud communication features together into one app with the added benefit of being able to make calls over your carrier network or by voip call using data coverage or wifi.
Say goodbye to desk phones because your android device is now a extension!
With three digit dialing between extensions visual voicemail conferencing sms an address book and fax there s nowhere you can t do business.
Got a second business phone? Why not use your android device instead and simply separate your personal and business calls by routing everything through one app? For android lets you consolidate!
Feature highlights use multiple numbersmanage multiple businesses or projects? Use the app to manage different phone numbers and identify where calls are coming from.
Then pick unique caller ids for outbound calls.
Visual voicemaillisten to your work voice messages in the app.
If you have voicemail transcription from you ll receive those messages too.
Conference callinginvite conference callers by sms.
Then call into your own conference bridge with one click!
Smssend and receive sms text messages using your office number or any other number in your account.
Faxfor when you re feeling nostalgic or obliged to send a fax.
Use for android to manage incoming faxes as pdfs or send a fax by scanning documents with your phone s camera.
Contactsorganize contacts in a combined address book showing both your personal device contacts and business contacts that are synced with your address book.
Call blockingautomatically block telemarketers unfriendlies and that other phone sales guy who won t take a hint!

Related Apps to Phone.com - mobile office