Octopus balance reader for Android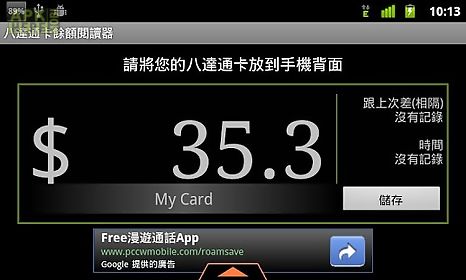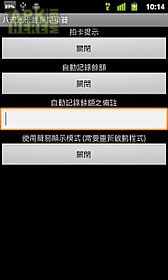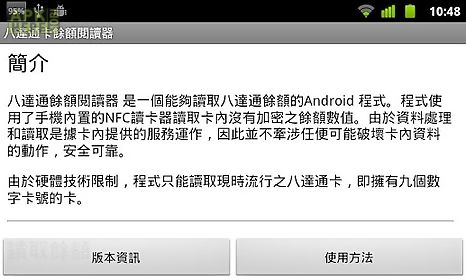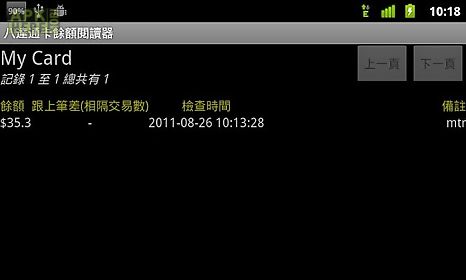 Octopus balance reader app for android description: first app to read the balance of the hk octopus card.
Once you own an nfc enabled android phone you are eligible to use this app.
Able to read the balance offline!
This app will only read the data from the card.
It will not modify any data on your card.
Thanks for your support!
: )Sound is emitted by the system even after you uninstall this app.
Android try to show you that no app is suitable to read your card.
Faq please refer to octopusbalancereaderthe old version octopus cannot be read due to android nfc hardware constraint.
The card id of old version octopus card contains no bracket and 8 digit only.
Notice: no cracking or illegal activity are involved during development process.
All the reading feature is performed under the mechanism provided by the card system.
Google nexus s and samsung galaxy nexus are the only two devices that can be bought in hong kong and having nfc hardware.
Tested device: - google nexus s (- - 1)- samsung galaxy nexus- asus nexus 7- galaxy galaxy s3sony xperia s(reported by users)galaxy s 2 hk version has no nfc.
Feedback report that the below device can run the app normally.
Htc one xsamsung galaxy siiisony xperia solasony xperia sattention: - octopus is the trademark of octopus holdings limited.
- This is not an official app by octopus holdings limited.
I will not responsible for any lose or damaged that are caused.

Related Apps to Octopus balance reader