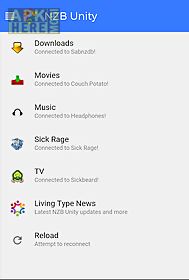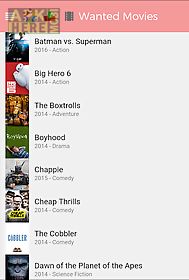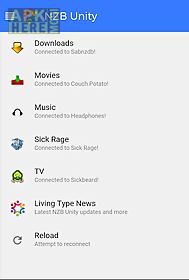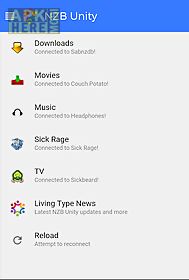 Nzb unity app for android description: Nzb unity brings together the best applications and services used in the newsgroup community into one easy to use integrated interface.
Control your download queue add new shows track your movies catch up on your favourite artists and more.
If you are using invalid or self signed certificates please visit to see the new certificate requirements with this release.
If your certificates are completely valid just self signed download cadroid from the play store download your certs and you are good to go.
The current release provides connectivity to sonarr sabnzbd sickbeard couchpotato headphones sickrage and nzbget!
New services are being integrated on a regular basis.
Both nzb unity and the various services it integrates with are in active development and may be prone to unexpected errors or results!
Be warned.
For those using url re writes or run their sabnzbd sickbeard couch potato or headphones instances in sub directories use the port field within settings to input these settings (i.
E.
: Configure port 8080 sickbeard).
This will be directly addressed in a future release.

Related Apps to Nzb unity