Nature sounds ringtones for Android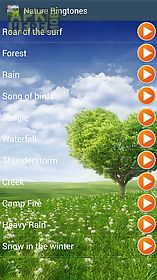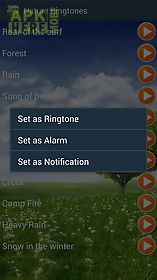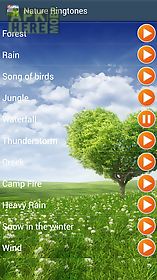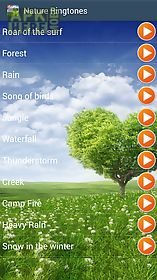 Nature sounds ringtones app for android description: Try now ringtones and alarm sounds of nature!!
Features: install to sd card high quality nature ringtone sounds nature sms sounds nature alert tones nature alarm soundsringtones: roar of the surf ringtoneforest ringtonerain sound ringtonesong of birds alarm ringtonejungle ringtone waterfall sound ringtonethunderstorm ringtonecreek ringtonecamp fire sound ring toneheavy rain sound ringtonesnow in the winter ring tonewind soundfeatures: soothing music sleep sounds and ringtones therapy music (music therapy sound therapy melody therapy) white noise for sleep bedtime music and songs lullaby of nature fall asleep immediately nature white noise maker deep relaxation melody set as ringtone meditation music for relaxation set as alarm relax and sleep well tinnitus mask bedtime music bedtime sounds and meditation sounds effects ringtones (noise maker app) like yoga music for relaxation and meditation beach sounds the soothing sound of a tropical beach nature sounds to help you sleep animal soundsnature sounds can be separated in two groups: first one includes the sounds produced by animals while the second consists of sounds produced by natural phenomena such as weather and meteorological occurrences.
During the history sounds of nature especially animal sounds have been objects of imitation of tribal people (and even of devotion when they have been related to their belief systems).

Related Apps to Nature sounds ringtones