My deco memo sticker & widget for Android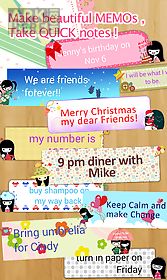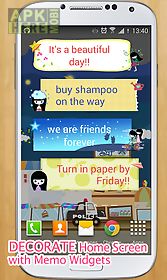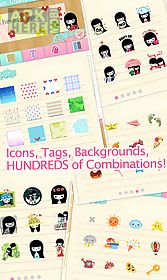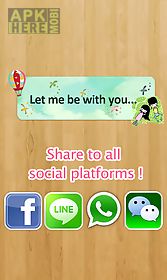 My deco memo sticker & widget app for android description: A truly unique decorative multi function memo note app!
Make your memo note beautiful.
Plus get more tasks done!
Kawaii stickers all over the app!
Visit in app shop to find more cute designs!
Helps you quickly note things and to dos on a beautiful memo sticker.
And put the sticky note onto your home screen as widget!
You would never miss anything again!
Features take a quick note.
Or use it as a notepad.
And make your notes look good!
Change backgrounds icons tags fonts and font sizes of each note!
Hundreds of combinations of backgrounds icons fonts and font sizes to decorate your memo notes!
Also: use the memo widget to decorate your home screen with one or more memo notes.
Place the memo on your home screen to serve as reminder notes task list todo list or to show your mood status or feeling!
Share put together a beautiful memo note sticker and send to your friends and loved ones!
Share via your favourite apps instagram facebook twitter wechat line whatsapp or directly save and share via bluetooth.
Easy really easy to use!
Stable app with full customer support.
Just email support.
Make it e this multi function app as you e it as a quick note taker easy sticky note notepad memo pad reminder note maker or create task list and todo list with it.
Or use it as a custom sticker creator to make a decorative beautiful sticky note with what you have to say and send it to your friends.
Continue to write to us at support to tell us what you think about the app and what new features you would like.

Related Apps to My deco memo sticker & widget