My coach - workout trainer for Android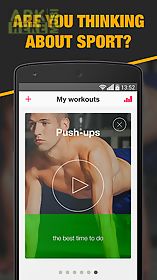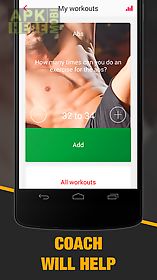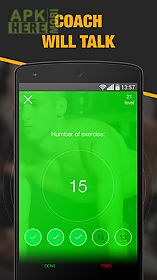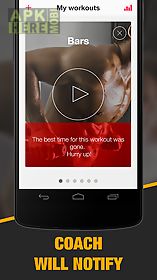 My coach - workout trainer app for android description: If you are tired to sit on your ass eat hamburgers drink beer and see in the mirror not attractive man this app is the best solution!
My coach is the best app to bring you in good sport condition and grow your muscles.
It takes only 20 minutes a day.
To go in for sports you don 39 t need to spend hours in the gym or fitness club.
A few things you need are: your will and sneakersapp developed as for beginners as for people going in for sports.
We propose you re invite old but very effective exercises: run push ups pull ups squating (sit ups) absyou need to select your current possibilities in each exercise.
The app will tell you what to do and correct time for it.
Every new level will be a little bit more difficult than previous but you can easily pass it.
So once you notice than you can make 20 pull ups : )my coach will notify you about best time of workout.
So if you 39 ll be able to do workout in correct time you 39 ll see the result in 12 daysmy coach with workout is: awesome design 5 simple exercises workout schedule notifications more than 200 levels progress stat the resultif you are still reading this it 39 s the best time to go in for sport.
That 39 s why: stop clicking do sport!....................
And we will help!

Related Apps to My coach - workout trainer