Mobile metronome for Android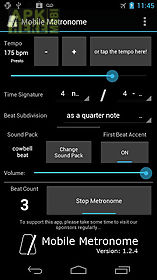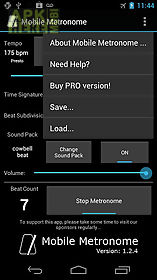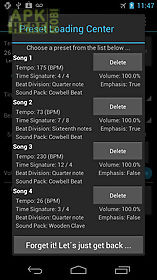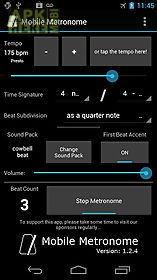 Mobile metronome app for android description: Mobile metronome is the best rated free metronome on android market.
It is easy to use robust and has everything any musician can ask from a metronome being the best choice for any android device!
List of features: fine tempo tuning from 10 to 230 bpm tap tempo load and save presets adjustable tempo signature for simple compound and complex meters.
From 2 to 20 beats per measure beat subdivision as quarter eighth triplet sixteenth quintuplet and sextuplet notes beat emphasis 4 soundpacks adjustable volume visual beat counter italian tempo markings automatically turns off when there s an incoming call runs in background settings are saved automatically on exitabout permissions: internet and access network state are required for ad support only access coarse location helps displaying advertisement which is relevant in your location read phone state allows mobile metronome to stop automaticaly when there 39 s an incoming call.
Wake lock garantees the metronome won 39 t stop after screen goes offincompatibility reports: htc wildfire: misplacement of toggle buttons on the screenalso remember to check mobile metronome pro on android market!

Related Apps to Mobile metronome