Meka - cupid dating & meet for Android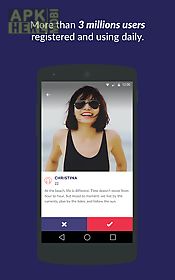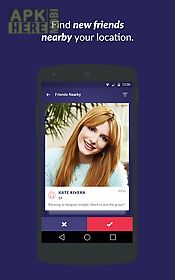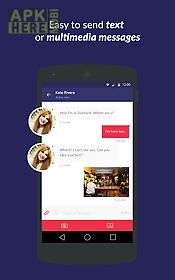 Meka - cupid dating & meet app for android description: Meka app is the new cupid in 21st century to help you find and dating with people around you or around the world with your smartphone.
Meka is the only dating app can help you find chat and meet new people in both ways: find nearby friends (local peoples) and random friends (someone in our world).
Meka is a powerful dating app to meet people expand your social group meet locals when you re traveling and find people you otherwise never would have met.
Main features: simple fast and security login with fb login.
Interesting profile with avatar cover photo and status.
Find and connect with matches nearby friends find random friends around the world.
Review photos and details info of your matches friends send and receive text and multimedia message as you want for free and always freehow to use? Sign in by facebook with one click within few seconds and you are ready to use.
If you want to update profile go to screen update profile and do everything you want.
Find matches friends by 2 ways: find random friends and find nearby friends you can send greating message to matches friends by setting new greating messages status.
Faqq: is meka cupid dating meet security? Can i lost my fb account? A: meka is very security.
And do not let you input your fb password.
If you are asked to input fb account and password that is through official fb app website and you shouldn 39 t worry about fb security.
Q: is meka cupid dating meet auto post to my fb wall? A: no.
Whenever meka want to post everything it 39 s will ask for your permission before.

Related Apps to Meka - cupid dating & meet