Medical & medicine dictionary for Android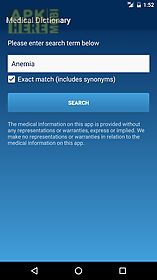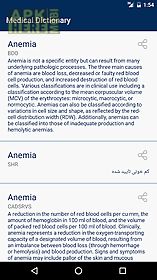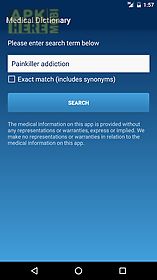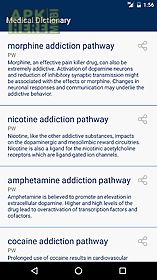 Medical & medicine dictionary app for android description: Medical medicine dictionary is a gift to the medical community for increasing awareness.
Excellent coverage for general health biomedical sciences.
Provides three features: annotator dictionary and thesaurus.
More than 300 39 000 medical biomedical terms.
Semantic (conceptual) and dictionary (literal) search available.
Especially good cancer related drug coverage and chemotherapy regimen coverage.
Includes number of standards used by the community including cdisc ucum fda standard product labeling terminology.
Please help me improve the app.
Donate at: paypal.
Me farhanjkneeds internet access to connect to major online medical resources.
Keywords : drug medicine medical dictionary dictionary medical annotator thesaurus.

Related Apps to Medical & medicine dictionary