Math games free for Android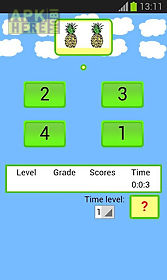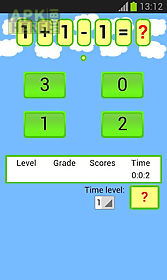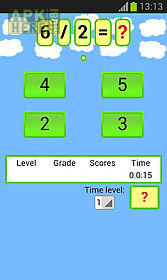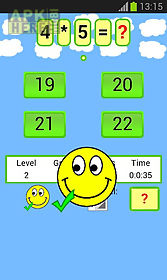 Math games free app for android description: This app allows you to help children with math skills.
Program for kids.
Excellent tool for school.
Learn counting numbers learn and practice: addition subtraction multiplication division.
Four basic math operations.
Children learn basic math.
How to add and subtract.
Mental maths skills.
Become good with numbers.
Improve your math potential.
Exercises times tables.
Activities to encourage counting.
Kids familiar with numbers.
Understanding mathematical concepts.
Kidslearn to solve problems.
Motivate your children to love math.
Fun educational math.
Numbers activities for kids.
Math games that are easy to make.
Exercises games for arithmetic.
Interactive activities.
An useful way to learn cational games for kids.
Become good with numbers.
All you have to do is to choose the right answer.
For phone and tablet.
Features: score.
Levels.
Level change automatically.
Time level.
Maths lessons.
Mental mathematics.
Operations for calculations.
Beautiful graphics.
Easy to use.
It 39 s for everyone.
It 39 s free!

Related Apps to Math games free