Mart dictionary ( mongolian ) for Android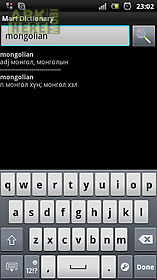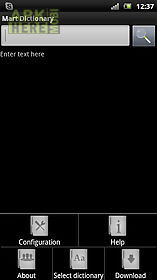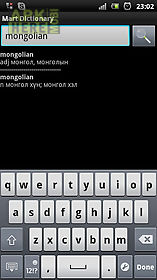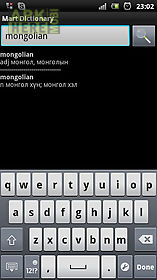 Mart dictionary ( mongolian ) app for android description: Multi language dictionary that mongolian english english mongolian languageto add other dictionaries into mart dictionary software first download the selected dictionary from 39 download 39 menu and click on list view it will automatically download it on mart dictionary.
But first mart dictionary has to be installed on your computer.
Since mart dictionary has built on quick search system it brings the results from more than 10 sources of dictionaries at the same time.
Besides it doesn t overload on your machine.
Mart dictionary is a simple and intuitive tool operated by a single click.
You can also easily copy paste to and from mart.
Actually once installed in your computer mart will become a powerful and innovative reference tool of easy use that will allow you immediate offline access to dictionaries and encyclopedias covering all topics and themes.
Mart s text translation is available in the following languages: english german japanese dutch russian korean and more.
Mart s translation and dictionary software offers results from a database of 10 sources in more than 5 languages.

Related Apps to Mart dictionary ( mongolian )