Makemymovie - slide show maker for Android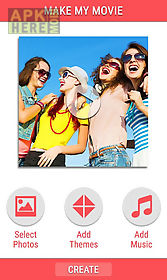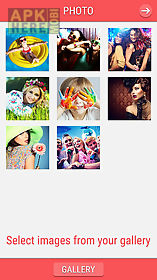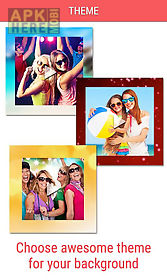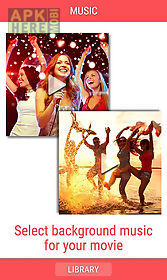 Makemymovie - slide show maker app for android description: Make my movie app will turn your photos into sensational movies by adding beautiful animations and music to it for free.
It allows you to selectthe theme effects and audio of your choice and allows you to create share your stunning video.
It 39 s never been easier to make video from images by choosingone of our video effects and music from our library or choose your ownsong music of your choice to make most beautiful video out of your photos and share that amazing movements with your friends using our inbuilt social sharing option.
Key features: create stunning video from your photos add music from our in built library you can choose theme you can choose song or music of your own choice if you wish add title to your video photo in built option to share your awesome video with social networking sites you can share on facebook instagram email youtube etcsteps to create your movie- select all photos from your album.
- Select your theme.
- Select music from music library or from our app.
- Enter your movie title.
- Click on done button to create your movie.
- Share with your friends(supports facebook instagram email youtube).
How does makemymovie app works? You don 39 t need be a video editor at all to use this app.
Just use our app as a movie maker.
Makemymovie app will analyze your photos and focus on users automatically andcreates a professional looking movie from photos that you have selected.

Related Apps to Makemymovie - slide show maker