Lockscreen policy (<= kitkat) for Android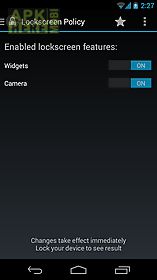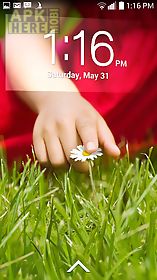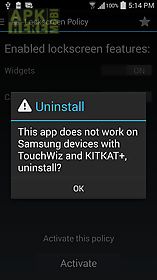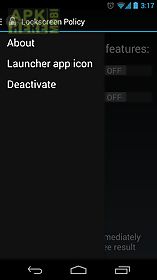 Lockscreen policy (<= kitkat) app for android description: Disable multiple 3rd party widgets on the lockscreen.
Also removes lockscreen camera access on some devices.
Warning: not intended for use on android - x.
Will cause boot loops on android - 1 ota for nexus - featured on android police cnet droid life uninstallfirst go to the app 39 s left swipe in menu by choosing 39 deactivate 39.
Or uncheck the app from the 39 device administrator 39 list under 39 security 39 in your 39 settings 39 application.
This allows you to uninstall.
Android - 4+lockscreen policy is at end of life and is no longer expected to work consistently across all devices because of various changes in kitkat by google and device manufacturers.
Thanks for supporting lockscreen policy!
Not useful on samsung touchwiz devices.
From version - - 2 the app will ask the user to uninstall when run.
Tip: use a third party sms app to hide sms on the lockscreen.
Uncheck 39 multiple widgets 39 in 39 lock screen 39 system setting to turn off 3rd party lockscreen widgets.
Disables the camera widget in stock android (nexus gpe).
Leave this setting in 39 on 39 position if you do not have a lockscreen camera widget.
Android - - xknown issue under - - 2 with widgets disabled: with widgets disabled the default clock widget toggles between the bold and the non bold hour clock every other unlock.
If your device is rooted use clock hack to get the device to consistently show the non bold hour clock.
Sorry for the inconvenience but i had no control over this.
This issue is fixed in android - - if you do not re root your device after updating to android - 3 it is highly recommended you undo the clock hack before proceeding or you will have no way of restoring the stock digital clock widget on your device.
Usage1) run application2) make selections and press activate3) in the 39 activate device administrator 39 screen choose 39 activate 39 4) turn off undesired features using the toggle switches.
Changes are made instantly.

Related Apps to Lockscreen policy (<= kitkat)