Leopard theme for go sms pro for Android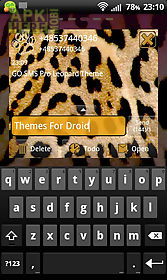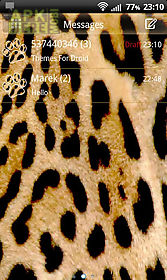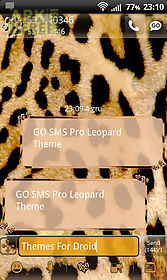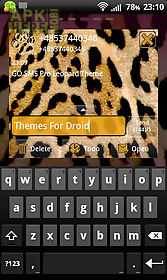 Leopard theme for go sms pro app for android description: leopard skin for your texting application.
These wild cats lives mainly in africa.
In the jungle and savannah.
Panthers live on the savannah have little brighter skin.
Their very soft skin covered with spots is the object of desire of many hunters.
Although still subject to the protection of an endangered species.
It works on the imagination of many.
If you are not a leopard skin although it can sms in leopard spots.
In asia the malay archipelago and one of the finest live panthers panther called misty forest.
It has a gray white hair color passing sometimes gray brown yellowish or reddish.
The head legs and stomach are covered with black irregularly distributed spots and stripes.
On both sides of the neck running three dark longitudinal band and two of the bands extend along the ridge.
It is a typically arboreal animal and the mysterious life relatively little is known.
Wallpaper is in modern set of colors.
On these wallpapers dominated shades of brown and black.
Icons are like traces of leopard.
This theme contains: beautiful contact list sweet compose message window and amazing pop up dialog.
All letters are matching to background.
We have created abeautiful set of icons to this theme.
They are related to wild nature.
This theme changes messages background default contact view font colors.
Support themes for droid : if you need help with our theme please contact with us on email: themes.
For.
Droid our support works only in the english language.
Please contact us in this language because we will solve your problem easier.

Related Apps to Leopard theme for go sms pro