Legal call blocker free for Android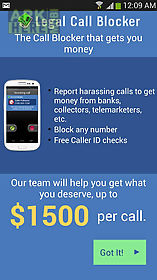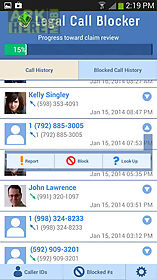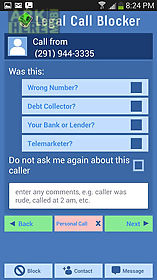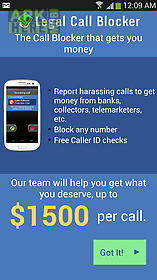 Legal call blocker free app for android description: Welcome to legal call blocker!
Recover up to 1 500 for each illegal call to your cell phone by telemarketers robocallers debt collectors etc.
In addition to blocking calls and free caller id look ups.
All at zero out of pocket cost to you.
Be prepared install the app!
Brought to you by lemberg law the most active consumer law firm in the united states by bureau of litigant data legal call blocker helps you identify and report callers who may be violating the telephone consumer protection act (tcpa).
With a few taps you can track and report potentially illegal calls and recover money from law breaking callers.
Using your reports created with legal call blocker the participating law firm will investigate and prosecute your tcpa claim.
Proceed with the case and you could receive up to 1 500 per call.
There are no legal or other fees unless we win.
Lemberg law has helped more than 10 000 consumers recover more than 30 million.
Now it 39 s your turn!
Pay zero for the app.
Pay zero out of pocket legal fees.
Have zero worries.
Additional features: block any number free caller id look up for any number do not disturb featurewe value your privacy only information on the calls you block or report gets to our servers so we can review it and get you your money not all your calls like some other call blockers.
Note on permissions: read contacts permission is needed so we do not ask you to report calls from numbers in your address book.
For u.
S.
Based mobile phones.
Attorney advertising this is not legal advice.
App users should not assume that they are entitled to any compensation as a result of downloading the app.
Compensation for illegal robocalls and any results obtained from it would depend on specific factual and legal circumstances of each case.

Related Apps to Legal call blocker free