Latest marathi sms for Android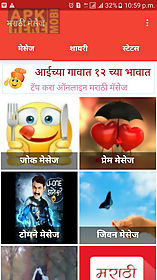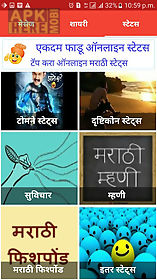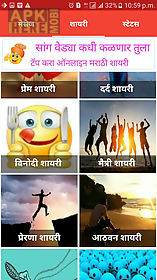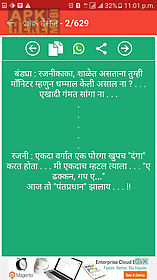 Latest marathi sms app for android description: Marathi sms collection contained different categories sms there aremarathi life sms marathi love sms marathi jocks sms marathi motivational sms marathi shayari sms collection marathi friendship sms sangarha mhani birthday message festival malavani emotional marathi sms collection.
Also contain shivaji maharaj sms collection differents poems and quotes in marathi good morning and good night message also here.
Marathi charole tomane gavakadil desi marathi sms also here your can download free and share with your friendsthis app contain sairat marathi sms collection zigat sms archie parsha marathi sms.
Sairat marathi font sms.
Puneri message puneri tomane puneri bhanat message puneri jokesdaily updated online marathi shayari daily online marathi statusdepending on the mood and content sms 39 s has been divided into following categories1 love (prem)2 friendship (maitri)3 funny (vinodi)4 poems (kavita charoli)5 good morning (shubh sakal)6 good night (shubh ratri)7 life (aayushya)8 birthday (vaadhdivas)9 parents (aai baba)10 festival (san utsav)11 inspirational (preranadayi)12 emotional (bhavnik)13 quotes (suvichar)14 proverbs (mhani)15 shivaji maharaj16 others17 malavani18 greetings (shubhechha)19 shayari20 brand new21 tomane22 pavasala (rainy season)23 puneri message24 puneri pattya25 romantic messages26 ganpati messages27 rakshabandan messages28 diwali marathi sms29 charoli marathi sms30 break up messages31 ukhane messagesonline raksha bandan sms online rakhi pornima sms online dahi handi sms online ganpati sms etc.

Related Apps to Latest marathi sms