Lamees notes notepad to do diary for Android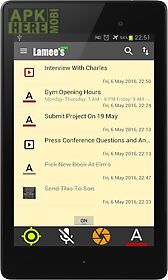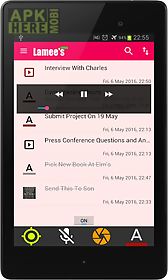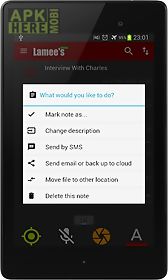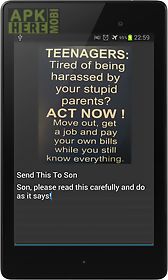 Lamees notes notepad to do diary app for android description: Lamees notes is the only note notepad app that has it all in one place!
It allows you to record your ideas of the moment instantly and by using any means that is available to you.
All of these are presented in an intuitive simple way that involves mostly swiping back and forth up and down!
Use text notes to save any thought that suddenly come up on you mind so you will not forget them!
Capture anything you see on the road that is of interest to you using your phone camera and get it noted and saved for later.
Record any audio voice like from interviews press conferences and use it later.
Capture the location so you can find the way back to it (where is my car? How many times have you wondered? ) Or to tell friends where you are at the moment!
(Come here to see me!
Im at the top of eiffel tower!
).
Never get lost again!
Using google navigation you will be able to navigate back to your recorded locations either by car walk or even by public transport!

Related Apps to Lamees notes notepad to do diary