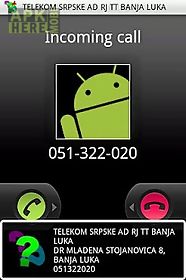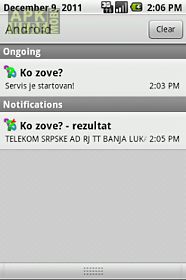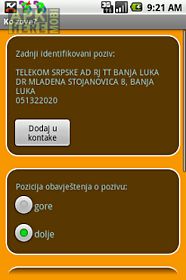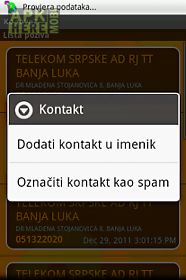 Ko zove? app for android description: va no: telekoma srbija je onemogu io pretragu svog imenika pa aplikacija ne podr ava brojeve iz srbije.
Razvoj situacije pratite na kozoveapp elite znati ko vas zove sa fiksnih linija najve ih telekom operatera u bih hrvatskoj i crnoj gori? Rje enje je tu instalirajte ko zove? .
Ako se dolazni broj ne nalazi u imeniku telefona aplikacija uspostavlja konekciju sa imenikom odgovaraju eg telekom operatera i prikazuje ko je vlasnik dolaznog broja bez obzira da li se radi o pravnom ili fizi kom licu.
Za rad aplikacije je potreban wifi ili 3g hdspa internet.
Gprs edge nije prikladan jer kod ve ine operatera u regionu dolazi do prekida internet veze pri dolaznom pozivu!
Ako aplikacija ne radi kako vi mislite da treba da radi prije nego date lo u ocjenu molim vas da me kontaktirate kako bi zajedno rije ili problem.
Samo uz va u pomo aplikacija mo e biti jo bolja!!
Va no va no va no u slu aju da operater promijeni na in na koji prikazuje podatke na svojim internet stranicama (odnosno pribavlja iste) aplikacija e po eti prikazivati udne rezultate.
U tom slu aju molim vas da me to prije kontaktirate kako bih prilagodio verziju.
Molim sve korisnike da mi se u slu aju bilo kakvih problema sa identifikacijom poziva naro ito na teritoriji srbije i hrvatske to prije jave na mail kako bih iste otklonio.
Ako korisnik pristupa internetu putem gprs ili edge tehnologije on e gotovo sigurno izgubiti vezu sa internetom u momentu dolaska poziva.
To je specifi nost gprs edge tehnologije i ja kao autor aplikacije tu ne mogu ni ta uraditi.
Ako poziv traje kratko korisnik e mo i dobiti podatke o pozivaocu po zavr etku poziva kada se internet veza ponovi uspostavi.
Me utim ako poziv traje dugo do i ce do gre ke u komunikaciji.
Za vi e informacija o ovome pro itajte obja njenje na str
Related Apps to Ko zove?