Knock detector for torque pro for Android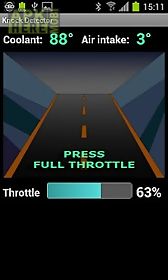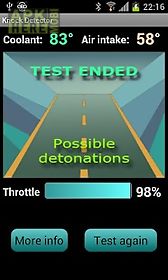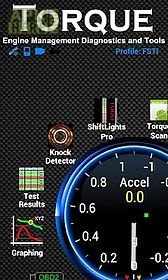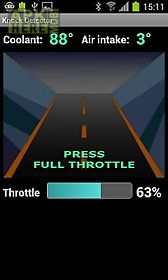 Knock detector for torque pro app for android description: check your gas engine for detonations!
Ensure that your everyday car or tuned machine is working fine and gas is good.
You should have torque pro installed and obd2 device connected.
Knock detector will: report detonations show throttle position monitor engine coolant and intake air temperaturesknock detector is torque pro plugin install torque pro first and start knock detector from torques main menu and make sure obd2 adapter is connected.
While driving at low rpm on 3rd gear just press throttle to max position and wait a safe period of time.
Test will start automatically and finish as you depress pedal.
Notification sounds will be played.
Test will cover the passed rev range.
If testing on automatic gear box ensure that gears are not switched during the test.
Warning please ensure safe driving conditions!
!
In order to work on all car models knock detector uses heuristic algorithm to find detonations.
It is based on analysis of timing advance throttle revs and speed.
On some ecus it may report knocks but the reason could be timing retard because of specific factory tune.
Knock detector will not report minor car specific knock events so it can also miss some detonations.
However it will report ecu learned detonations.
Such knock events will likely disappear at some moment.
Detonations can be real or fake they can appear and disappear so there is no reason to worry if such are reported.
Detonation may be caused just by depressing the throttle at high revs.
Some stock ecus pull timing 0.
5 - 00 even on wot so fake knock will be detected.
Engine coolant and intake air temperaturesare also monitored as major knock factors.
Avoid spirited driving or testing when both values are not green too cold or too hot temperatures can cause detonations.
Please install ejnoy and share bigdinch the real life smartphone top chart https: play.
Store apps details? Id com.
Lep.
S.

Related Apps to Knock detector for torque pro