Knight dark fantasy wallpaper for Android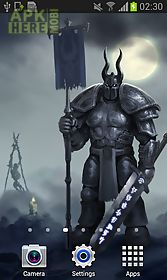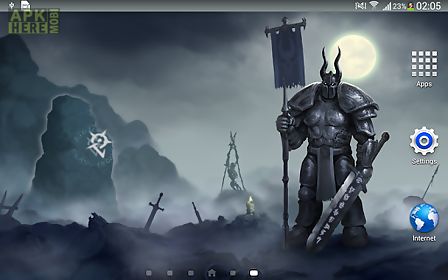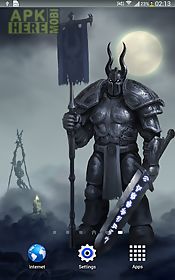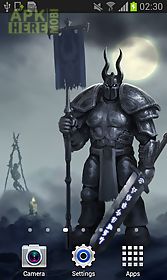 Knight dark fantasy wallpaper app for android description: Dark fantasy interactive animated live wallpaper!
No ads!
Touch active areas to start animation and sounds!
Watch video with full feature list available as in app purchase.
Great for those who like cg fantasy art game art sci fi gothic and horror.
Creepy atmosphere of ancient evil and forbidden magic!
Are you brave enough to summon moon knight to your home screen?...
He is a death guard whose dark twisted soul is forever damned to wander in grim wastelands reaping his bloody harvest...
He has slayed all those dauntless warriors who dared to challenge his might!
Their souls are trapped in his twilight sword sealed by mystic runes.
Will you join them? Or do you really have the power to control moon knight? Prepare to touch the other side!!
Evil magic medieval gothic theme magic runes creepy ravens scary ghost whisper...
What else does a real dark fantasy fan dream about? This is not a static fantasy picture you often see.
Its real interactive live wallpaper at its best!
Free features (no ads!
) Animated moon knight with moving body parts (2 idle animations) touch knight 39 s head his eyes will glow and he will talk to you or laugh dark fantasy landscape background (hd optimized for tablet) pulsing moon glow randomly generated moving clouds flying background ravens flickering animated candle rune stone extended feature set (in app purchase) 2 new knight theme (dark knight armor and ghost knight armor) touch twilight sword behold glowing runes and hear creepy whispers of fallen heroes 39 souls!
Touch the knight 39 s flag and he will stomp the ground with it.
Heavens will shake with roaring thunder!
The knight has yet more things to tell you about the other side...
Touch his helm if you dare...
Mysterious fog creeps over grim wastelands...
Touch the moon to start stop scary background music 2 new knight idle animations for better variety.
They are subtle but every bit counts!
Ravens explode when touched!

Related Apps to Knight dark fantasy wallpaper