Kawaii battery for Android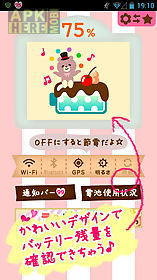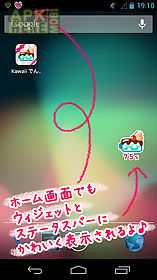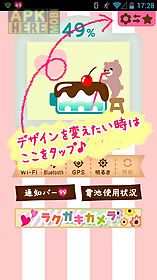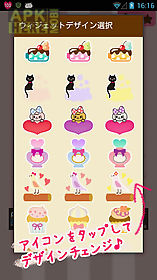 Kawaii battery app for android description: How about a widget with cute designs? Kawaii battery is a widget app to indicate battery level must have for smartphone girls.
Cute icon displays the remaining of smartphone battery level.
Other than home screen little icon appears on notification bar to show battery level.
Icon changes according to battery level? We offer many cute widget designs.
Change widgets according to your feeling of the day!
It comes with easy to use powe saving function.
Application features battery level ( ) indicated on the widget batter level ( ) indicated on the notification bar (can switch on off) on off switch for power saving wi fi bluetooth gps accounts auto sync display(adjusting brightness only) check battery usage contact us please contact us here for your request of widget design comments and feedback.
Twitter hks android sptmail android hikesiya.
Co.
Jp common inquiries q.
How is the setting method of the widget? A.
The setting method varies according to an os.
Please refer to the following.
In the case of the androidos - x based terminal- choose widget from the list of application (it 39 s in the upper screen)- choose kawaii battery among the listin the case of the terminal except androidos - x system- push and hold the home screen (please push the range except the icon)- choose widget from the displayed screen or the dialogue- choose kawaii battery among the listq.
There is no kawaii battery in widget list.
A.
Please restart your terminal because there is a thing to improve.

Related Apps to Kawaii battery