Inmacking for Android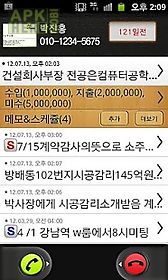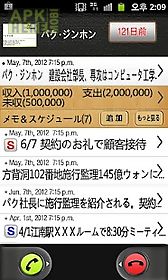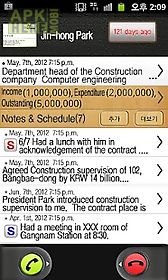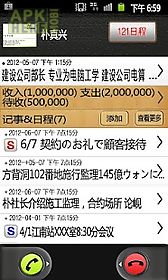 Inmacking app for android description: 2011 republic of korea mobile app award winning work!!
Computer+secretary+office in one application.
Korean patent no.
10 1121413 pct no.
Kr2012 005113 as mentioned technology has been applied to the application.
When people call you on the phone this application enables you to know who you talk to on the phone by showing the information of caller on the screen.
Manage and organize your personal connection continuously with the power of personal connections management.
Function of the inmacking application - personal connections management it helps to manage and recognize which client is calling by dividing personal connections by significant personal connection memo schedule with people and money relations of clients before calling.
- Voice pishing you can be free from annoying call or voice phishing call.
- Laboratory whenever and wherever you have a good idea you can record as a memo photo and picture.
- Business card book you can register other people s business card in your mobile device easily by connecting personal connection management system and you can check caller s identification when phone call is coming.
- Schedule you can manage schedule with clients and personal connection by dividing by different types such as the day the future and the past etc.
- Adjustment you can check money relations with personal connection at a look.
- Group management you can check personal connection and send a message by group.
- My news you can send your news to your personal connection (clients) periodically and you can also check and manage sent messages at a look.
- Statistics statistics function shows users clearly organized call log memo and money relations by selected period.
10.
Backup restoration all information in your mobile phone can be linked with your pc and dropbox.
Also if you change your mobile device you can bring all the information by one click.

Related Apps to Inmacking