Incognito private browser for Android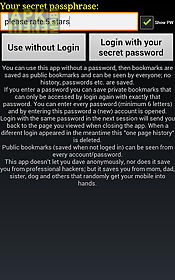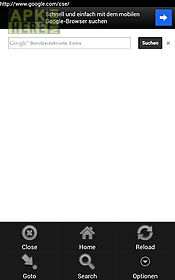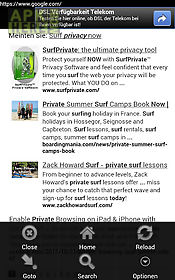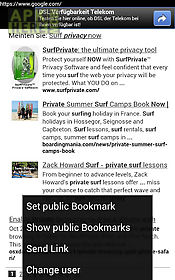 Incognito private browser app for android description: Inco is a full featured safe incognito and private browser android.
Inco is the best browser if you want to visit adult dating movie medical or private sites without anyone knowing about than yourself!
All pages visited and all data (cookies forms history) are deleted on exit.
Nevertheless you can save private bookmarks and recall them with the same password in your next session.
Gives you the ability to hide your private surfing from the eyes of mother sister daddy colleagues or your boss.
Browse with different profiles each profile containing its own private bookmarks or choose to surf without a profile quick and easy.
Different profiles are supported by different passwords no signing on or any other hassle different password different profile.
No limitations in different profiles.
In case of problems concerns or errors with inco please give feedback before rating down give me the chance to fix it.
Please use the web form for your feedback or send an email.
Goo.
Gl gdsaqinco features: no data is saved no history saved no cookies saved no form data saved private bookmarks public bookmarks (bookmarks from public profile) share url mobile friendly search page direct search change user one page resume for every profile in next session 180 second timeout (if a call comes in or a popup appears you can continue with your session without entering the password again)!
Inco do not proxify or encrypt the traffic so keep that in mind and don 39 t surf illegal stuff or not safe for work sites ( work)!

Related Apps to Incognito private browser