Hunting calls all in one for Android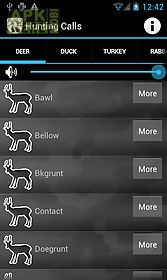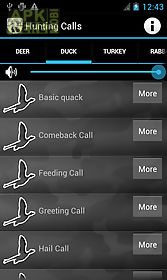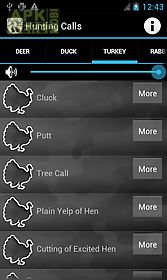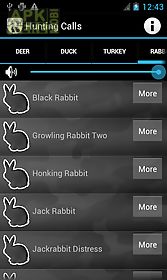 Hunting calls all in one app for android description: Hunting calls all in oneis one of the smart and accurate tool on the market specialized tool for deer hunters run the application and get the attention of all animals hunters most like to hunt.
Hunting calls is a stunning tool a collection of different animal sounds which people most like to hunt.
This application improves your skills to bring these animals under your hunting rifles and more.
Hunting calls is the most comprehensive collection of animals calls.
The most important part is it includes the information and different key tactics for hunting which make this application very helpful in improving your hunting skills.
This application has a very improved and advanced user interface which is very easy to use and friendly to user all you need is in front of you no extra searching and scrolling in the app.
Going for hunting? Get hunting calls before you leave.
This app can produce sounds to call these animals.
Why buy different sounds producing devices if you can put all the stuff in your phone.
Make sure to verify local hunting laws while going to hunting with this app.
Your feedback is useful for us to improve quality of our application.
Thanks.

Related Apps to Hunting calls all in one