House decoration girls games for Android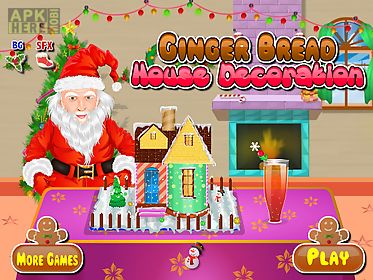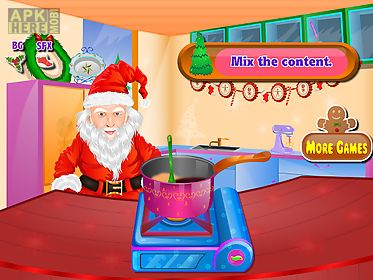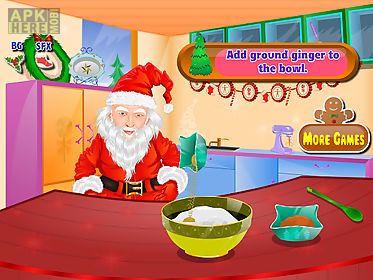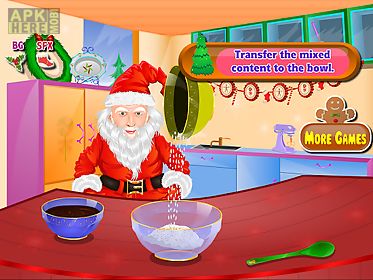 House decoration girls games game for android description: Hi every year we prepare sweets for the christmas party this time we thought it a good idea to prepare gingerbread.
This dessert is pleasing to all children and and you can offer like a desert for santa claus.
We have no time to prepare gingerbread so please you help us.
Will you help us? Do you think you are doing in the kitchen? Sure you handle especially if you pay attention to how your mother cook.
The recipe is simple and sure you will not have problems with this kids game for christmas.
For everything to get it right will help you and santa claus he is in the kitchen and is waiting for you.
Definitely will be your best gingerbread that we have ever eaten and the game for kids with santa claus will make you very happy.
Please pay attention to details in order to lead the final mission.
Success!
1) turn the oven place a pan on low heat and then add: butter brown sugar yellow syrup and cocoa.
Mix with a wooden spoon 2) the composition of the above should be placed in a bowl 3) now you need to add the following ingredients in a bowl: flour baking powder grated ginger and cinnamon.
Mix well 4) mix the two compositions 5) prepare gingerbread 6) into in the oven the tray and wait a few minutes until it is ready 7) gingerbread is baked and now you must prepare to build a house of gingerbread 8) put all the pieces until it is ready a beautiful house 9) gingerbread is ready to be served 10) you can serve gingerbread with a hot tea or a hot chocolate.
Thank you for your help today you are a very good cook and we will expect every day to help us through this christmas games.
This game helped you to show that you have many culinary skills.
Have fun and merry christmas!

Related Apps to House decoration girls games