Holy bible for Android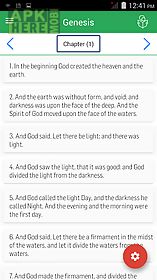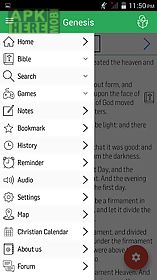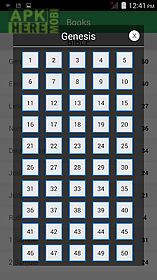 Holy bible app for android description: We are proud and happy to release the holy bible (kjv) in android for free.
Holy bible application is simply designed to make it available offline complete.
Internet connection is not required to read the bible verses.
The app contains both old testament and new testament.
Search option is also provided for quick reference of king james version.
Forum has been included to have spiritual discussions.
Features : read it anywhere no internet needed works on all android devices.
Gt easy and quick navigation bookmark by chapter notes search with highlight organized into books chapters quiz (multiple choice question) popular verse popular quotes verse of the day bible dictionary daily bible reading activity word search audio bible (play pause stop) orientation support (portrait landscape) history option (word searched text).
Gt christian calendar option.
Gt settings brightness increase and decrease.
Gt font size increase and decrease.
Gt custom font style.
Gt text color change.
Gt text background color change.
Gt app theme color change.
Gt night mode on off.
Gt verse separator spacing verse.
Gt easily jump to verse in chapter with verses conveniently on top of each chapter custom text colors.
Gt share verses with friends using social networks( facebook twitter) email or sms (text).
Gt read easier with settings like fonts text size much more!

Related Apps to Holy bible