Het weer in nederland for Android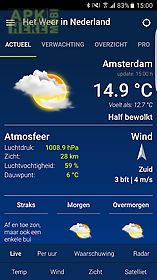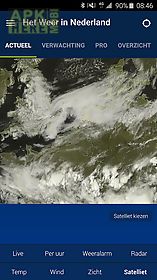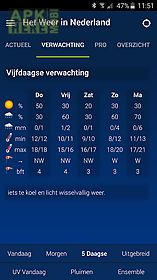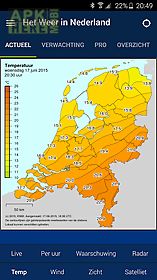 Het weer in nederland app for android description: Stay up to date with the current weather conditions in the netherlands and in the world via the weather station widget.
Reliable data live from the dutch national weather service knmi.
Het weer in nederland now contains 31 maps forecasts and other items + 5 widgets and android wear smartwatch app!
Forecasts for today this evening and tomorrow satellite images (visible light + infra red) detailed 5 day + text forecast maps showing the current temperatures wind speed (m s and bft) and visibility uv prediction for today and tomorrow precipitation map animated weather map (several days in advance) weather alarm + coastal alarm three precipitation radarviews rotate your device to zoom in three app widgets bring live weather information to your home screen including weather station widget!
Data is downloaded from the dutch national meteorological institute knmi.
Due to the nature of this source some content (specifically the text forecast) is written in dutch.
Gt widget only works when you run the app from phone memory move to sd card will disable it.
Disclaimer: we do our utmost to deliver you the best software and data available in the market but of course we cannot guarantee the proper functioning or accuracy of both.
Data sources can change over time.
You can not derive rights from this information.
By downloading and using het weer in nederland you accept these terms.
Location: the rough location permission is necessary to enable the weather station widget to show you your local weather data.
It is not used nor stored for anything else at all.

Related Apps to Het weer in nederland