Hearts themes for go contacts for Android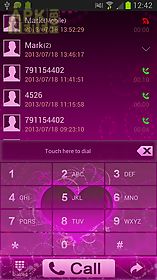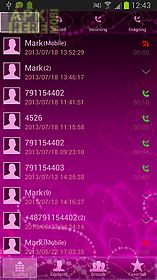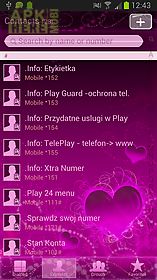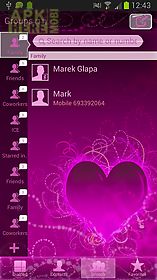 Hearts themes for go contacts app for android description: Application to contacts with magical cute heart themes.
Theme was made for fans of fairies spells and the remaining part of the world of magic.
All of fairy tales has magical love story where appear love potions and love spells.
Fairies often help beautiful princesses in love.
Serpentines on the themes background looks like spells from fairies wand.
Spells which makes you the most beautiful lady on the ball.
Fairies always appear when we need them and help us.
They are on the side of love and happiness.
Everybody need some magic in life.
Magic stimulates our imagination to create new wonderful things.
In this applications dominate shades of pink and purple.
Names of contacts are in light pink color date and time are pink.
Keyboard keys are purple and have magical background with hearts and serpentines letters and numbers are pink.
Button to calling is pink with purple inscriptions.
Other elements are pink and purple.
If you like love motifplease see our other applications with beautiful hearts.
Support pack of themes : if you need help with our theme please contact with us on email: packofthemes our support works only in the english language.
Please contact us in this language because we will solve your problem easier.

Related Apps to Hearts themes for go contacts