Hearts theme for go contacts for Android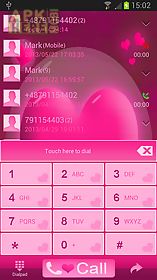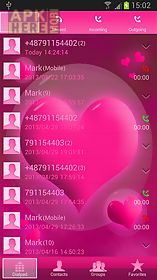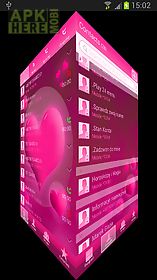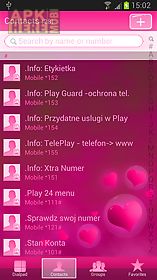 Hearts theme for go contacts app for android description: Theme with the motif of pink hearts.
Pink app for lovers of pink.
Background of contact list is pink and has a pink heart.
The keyboard also is pink with hearts the remaining elements of the keyboard are white.
Contact names and data connections are shades of rose.
The icons in the theme are clearly rose.
Icons in groups are white.
Background of contacts groups and favorites are pink hearts.
If pink is your favorite color and you have all the hearts on this theme is for you.
Your contacts will turn into the boring standard colors for a cheerful and vibrant pink.
This theme is also ideal for lovers.
Ideal not just for valentine 39 s day.
Embellish your app with this beautiful pink heart and contacts will turn into something unique which attracts the attention of vibrant colors.

Related Apps to Hearts theme for go contacts