Hearts theme for adw launcher for Android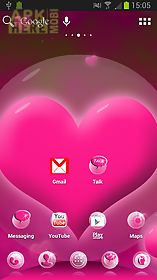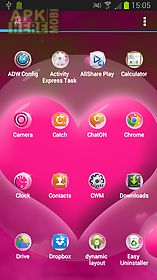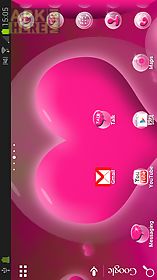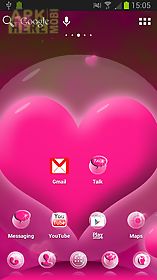 Hearts theme for adw launcher app for android description: Theme of big pink heart.
Skin was made for especially for people who likes color pink and hearts.
Background shows big shining heart in the pink bubble and some little hearts.
Each of icons contains pink bubble in the background.
Main icons are replaced by sweet pink icons of our projects.
Background of the main application menu is also big heart.
If you are a fan of this color and if you like have a lot of things with a pattern of hearts this app is made for you.
If you like this application please see our other apps with hearts theme and in color pink.
Now you can also download live wallpaper with hearts in the bubbles which you can hit.
This theme contains: one beautiful wallpaper wallpaper shows big heart in the pink bubble pink icon pack changed app drawerhow to use this launcher theme: - press menu button on your smartphone.
- Press more and then launcher settings- chose themes preferences- select your theme and chose our themesupport themes for droid: if you need help with our theme please contact with us on email: themes.
For.
Droid our support works only in the english language.
Please contact us in this language because we will solve your problem easier.

Related Apps to Hearts theme for adw launcher