Hearts - go launcher theme for Android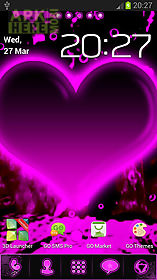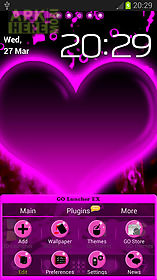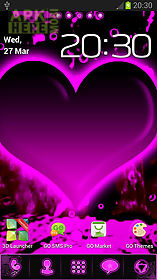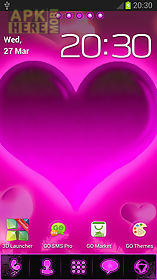 Hearts - go launcher theme app for android description: From today you can check new symbol of love and feeling with our new beautiful heart.
You will really like our new launcher hearts theme.
See how great may be neon pink violet and lilac colors and how incredibly will change your smartphone with these great fluorescent dazzling colors.
Do not stay on the side!
Shine just like your brand new phone!
Discover the magic of fantastic amaranth and brilliant rose colors and become the soul of the party.
Keep in touch with your friends lover or even with your parents (remember they love you anyway ))you 39 re too young to be serious.
Enjoy life while you 39 re young have fun and do not allow yourself to get bored!
You can chose between three different wallpapers.
Depends on whether you prefer a deeper and more saturated shades of pink or rather a little bit toned with black.
Two wallpaper as a background for a wonderful huge heart have amazing pink drops.
Last for a big rose heart has a tiny red purple sweet hearts.
Extremely big tickles are pink and roseatebut it subtly passes into dark deep black color.
How to set our theme as default: back to launcher home screen press hardware menu button on your device on slide vertically to top on screen press themes button slide horizontally or press installed tab tap view of our theme click apply button enjoy : )support pack of themes : if you need help with our theme please contact with us on email: packofthemes our support works only in the english language.
Please contact us in this language because we will solve your problem easier.

Related Apps to Hearts - go launcher theme