Guessy: a social quiz game for Android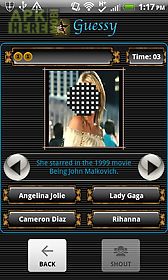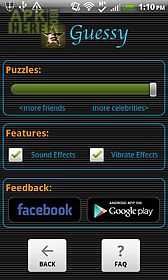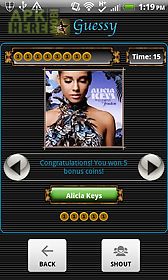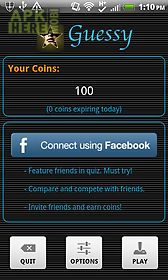 Guessy: a social quiz game game for android description: Guessy is a fun social quiz game featuring celebrities and even your friends!
Guessy challenges players to guess names of celebrities given partially covered pictures and hints.
For a social twist guessy can also use facebook information to feature friends in the game using profile pictures and hints such as hometown location education and workplace.
Try it out today for free!
No facebook login required.
How to play: guess the name of the person in the picture within 20 seconds by selecting one of the four choices.
How coins work: coins are valid for 5 days and should be used to play games before expiration.
Every 2 seconds taken to guess costs 1 coin.
Every correct guess wins 5 coins.
How bonus coins work: guess correctly in less than 10 seconds to win bonus points.
Guessing in less than 5 seconds earns even more!

Related Apps to Guessy: a social quiz game