Go sms pro widget for Android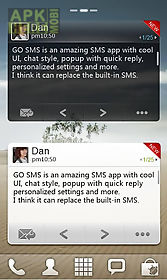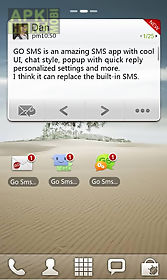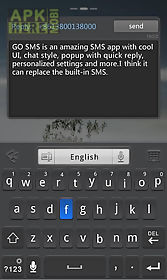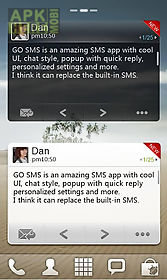 Go sms pro widget app for android description: Go sms pro widget enables you to view messages on desktop.
You can use this widget independently without go sms.
But to enjoy more powerful sms funtion you need to install the latest version of go sms pro which is the most popular sms mms app in android market.
How to add go sms widget on your home screen? Long press on your home screen press the widget option and choose go sms widget.
Make sure your home screen has enough room for the widget.
Available size: icon 4x2actions: view reply write new message call delete mark as read widget settings includes changing style note some funtions need you to bind to v- 59 or the newest version of go sms pro if your haven 39 t installed or the version is too old we suggest you to dowload or update your go sms pro main program.
Related website download the newest go sms pro: - search go sms pro in google market - https: market.
Details? Id com.
Jb.
Gosms visit our blog: gosms.
Visit our official website: email to us: gomessanger visit our facebook profile: apps application.
Php? Id 178919808825035thank you for your support very much.

Related Apps to Go sms pro widget