Go keyboard blue hearts theme for Android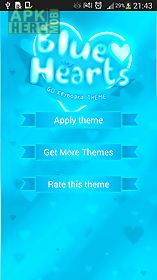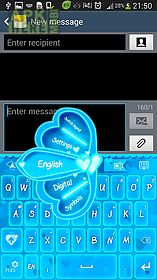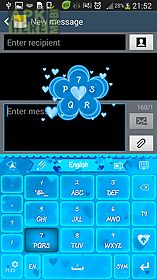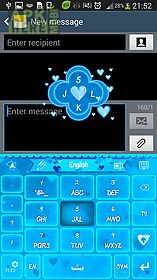 Go keyboard blue hearts theme app for android description: go keyboard blue hearts theme is a pretty theme designed for girls who want to bring color to their plain keyboard for valentine 39 s day.
It has shiny blue buttons set on a blue wallpaper filled with different nuances of blue hearts and a cute glowing white font to match.
This beautiful and cute theme is inner works studios 39 gift to all the ladies who love and like being loved.
We hope you enjoy blue hearts theme!
How to apply the theme: download the theme.
Press the open button.
Press apply theme button.
How to apply the custom font: press long ? 123 key from the keyboard.
Press advanced settings.
Press font settings.
Press scan fonts.
Press select font (now choose the font that has go keyboard blue hearts theme on it).
This is not a standalone app you need to have go keyboard installed in order to use this theme.
The theme is high definition and can be used on tablets too.
We used ads to make possible this free premium app.
Contact us: if you encounter any problems or have any questions contact us at app.
Skins.
Rate this app and let us know your thoughts about it so we may improve.

Related Apps to Go keyboard blue hearts theme