Friends sync for Android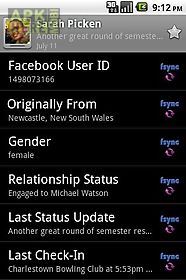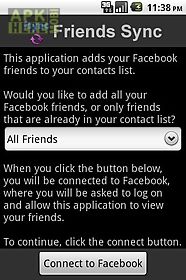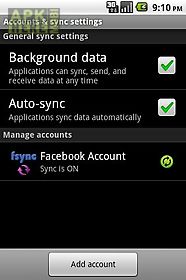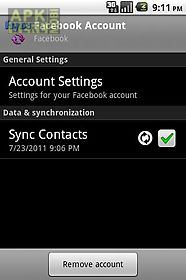 Friends sync app for android description: Adds your facebook friends into your contacts address book and re syncs them when their details change.
Syncs all of your friends contact information including...
Name nickname and photo home town the city they 39 re currently living in last check in and status message gender and birthday religious and political views tagline and relationship statusto use this application go to your settings menu and choose the accounts and sync option.
You can then add a new account and facebook should appear in the list.
When adding a friends sync account you are able to choose to sync all friends or contacts only.
Choosing contacts only will only sync your facebook friends that have their details stored in your phone already all other facebook friends are ignored.
A contact must have their email address or their first and last names stored in your phone in order to create a match with a facebook friend.
To change how often your friends are updated from the server go to your settings menu and choose the accounts and sync option.
Choose the facebook account then choose the account settings option.
This is also where you can change the sync type between all friends and contacts only like this application? Why don 39 t you make a donation via the website?
Related Apps to Friends sync