Followers+ for twitter for Android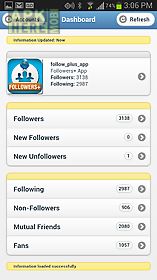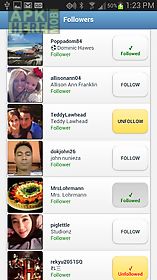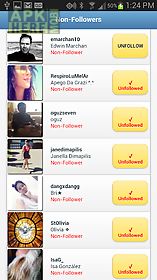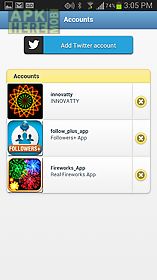 Followers+ for twitter app for android description: Discover who unfollowed you on twitter and who is not following you back track new followers find mutual friends view fans and more...
Use followers+ app so that you can guard your twitter account and get so much insight.
It 39 s fast accurate and extremely intuitive.
Tracking your followers on twitter is almost instantaneous.
This app will not only detect unfollowers it will also make them think twice before unfollowing you.
Just let them know that you 39 re using followers+ twitter followers checker.
Features: login using twitter account retrieve lists of followers and following detect new followers + unfollowers detect non followers detect mutual friends and fans follow unfollow users show user profiles support accounts up to 75 000 followers support multiple accountsso next time you asked yourself 39 who unfollowed me on twitter? 39 just use followers+.
It will answer this question plus more.
You 39 ll like it instantly.
If you get featured on followers+ you can gain more followers on twitter very quickly.
This app is brought to you by the developers of instafollow for instagram the most popular followers tracker app for instagram.
Find out who your best friends on instagram are using our instabestfriends app.
You can also generate 39 my best friends 39 cards for sharing on instagram.
Follow us on twitter innovatty to get latest newsyou need a twitter account to use this app!
This app is not affiliated with twitter.

Related Apps to Followers+ for twitter