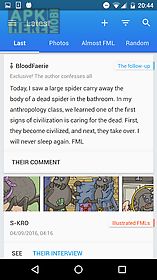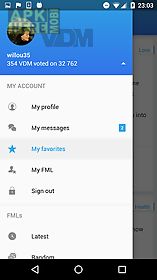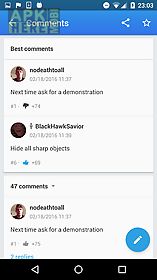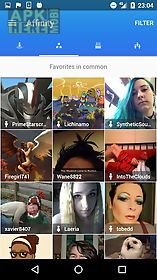 Fml official app for android description: This is the one and only official app for the popular website which publishes the finest slices of day to day embarrassments and misfortunes.
Get your daily fix of freshly updated stories laughs cringes and even create your own free member 39 s account to take advantage of added features.
You like fml? Become a fan on facebook: fmlfollow us on twitter: fmlif you have any technical issues: support this official application was developed by william paumier with the fml team.
Read vote and comment on the fmls submit your own stories share the stories on facebook twitter sms or e mail sort the fmls by top flop or by category read randomly selected fmls add fmls to your favorites to read them again later or to share them with your friends each week discover a brand new illustrated fml created by a different artist search through the fmls using keywords fill out your member s profile moderate the fmls to help the website s team to publish the funniest stories read the fml team s blog to keep yourself informed about what s going on+ loads more stuff to come in future updates!

Related Apps to Fml official