Flash notify for Android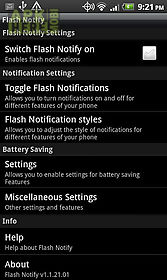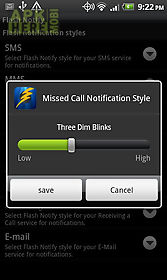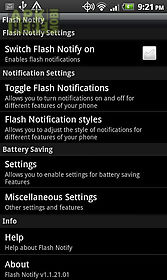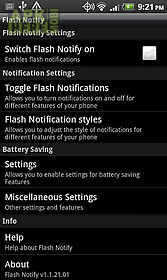 Flash notify app for android description: Are you one of those android users that didn 39 t get the nifty notification led in front of your phone? Say you have the samsung galaxy or the droid charge or even a proud owner of the htc thunderbolt that does have the notification led you can barely see.
Here comes flash notify to the rescue.
You will never return that missed call 2 hours too later while your phone was on silent.
With flash notify you can set you camera 39 s flash to act as your notification led.
Flash notify allows you to designate different styles of blinks for different actions on your phone (missed call e mail sms mms voicemail receiving a call or google talk).
Please note: not all devices support flash notify or all of the blink styles designated on flash notify.
Your phone 39 s camera flash is not designed to work as a notification blink.
Please use flash notify at your own risk.

Related Apps to Flash notify