File beam (touch to send) for Android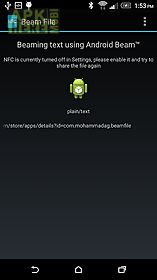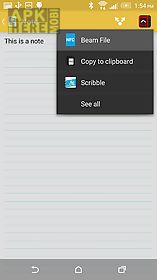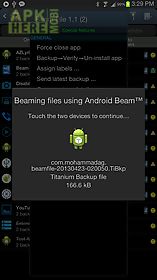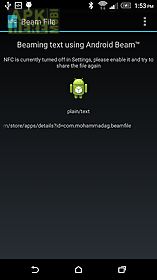 File beam (touch to send) app for android description: Ever wanted to send someone a document a song a video or just about any type of file ? With file beam you can!
You only need android - 1 installed on both devices (jelly bean) and that both devices have nfc.
File beam uses android 39 s built in android beam so the receiver doesn 39 t need to have any app installed it should even work with other phones running other oss (works with some nokia phones with nfc hardware).
(Please note files are sent over bluetooth nfc is just used to do the initial pairing)this application has no icon!
Use it by tapping the share button in any of your favourite apps (oi file manager https: play.
Store apps details? Id org.
Openintents.
Filemanager recommended for sending arbitrary files)tested on: samsung galaxy s4 (gt i9500) samsung galaxy note ii (gt n7100) samsung galaxy siii (gt i9300) nexus 7 (grouper) nokia n9 (rm 696) (only as a receiver)permissions: internet: ads they can be disabled in settings.
Read contacts: sending contacts using the app causes a crash without this rest assured the app doesn 39 t read contacts unless you share a contact using the app.
Old changelog: - 1 support sending multiple files at once receiver will put all files in one folder.
Due to the above support sending titanium backup files (only easy import for now!
) Ui can be set to dialog mode in settings this means the app you shared from will stay visible.
Ads can be disabled for free in settings.
Bug fixes.
- 0 initial release android seems to be refusing to send some file types (such as.
Tar.
Gz archives) looking into this.

Related Apps to File beam (touch to send)