Feedr news reader for Android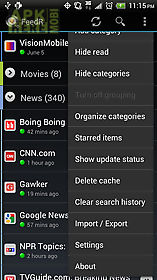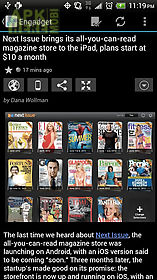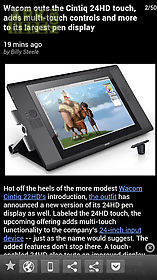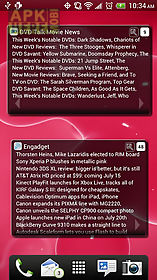 Feedr news reader app for android description: Powerful feed reader with optional feedly integration.
Search preview feeds read offline with images mobile view customizable interface.
Rss atom podcastsnews reader for rss atom feeds equipped with feed search and other great features.
Simply search for keywords or site name (e.
G.
39 sports news 39 or 39 cnn 39 ) tap the result to preview add and enjoy!
Features: feedly cloud sync new read by feed category all new tablet layout new feed search with preview will allow you to build your feed library quickly and easily full screen view with swipe and zoom that can be used as default reading mode supports saving articles to pocket expandable list allows to read articles without leaving the list as well as read only articles that interest you offline reading with images (configured per feed) ensures that you can read even when not connected one click access to mobilized version of article for faster easier web browsing ability to view article comments and subscribe to comments feeds widgets and shortcuts on home screen resizable widget or pick from one of 3 sizes each widget can be configured to rotate through selected feeds at set interval or manually choose between dark or light theme customizable storage update frequency notifications etc.
Backup restore to sd note: to use widgets please install the app to internal memory not sd.
If you have a force close or another bug unique to your device or configuration please email the developer instead of posting in comments.
If we cannot reproduce the problem we cannot fix it without your help!
Thank you!

Related Apps to Feedr news reader