Fake identity generator for Android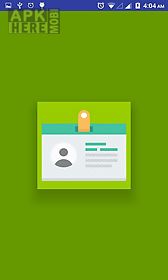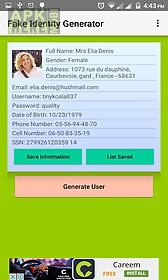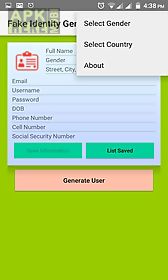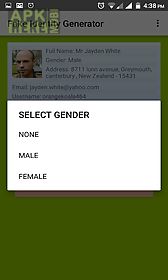 Fake identity generator app for android description: This application is an identity maker tool for generating fake identity but valid identities.
All the data in this app is random and will not point to any particular person.
You can generate information randomly.
You can generate user information based on nationality or gender or both.
Currently it supports user generation of following countries.
Australia brazil canada denmark switzerland germany spain finland france united kingdom ireland netherlands new zealand united states turkeyupdates improved user interface now you can save the generated user information to be used again.
Any resemblance to any person would be completely coincidental because data is being generated randomly.
This tool is for educational purposes only.
Use with care.
The developer is not responsible for what you do with this information.
If you like this application then give a review of what you think about this application.

Related Apps to Fake identity generator