Fabulous hearts - go sms theme for Android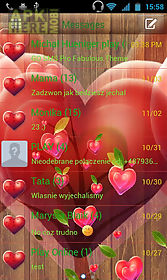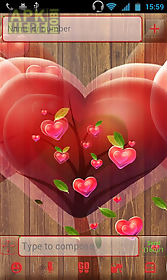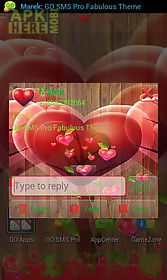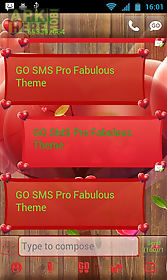 Fabulous hearts - go sms theme app for android description: The main motive of this theme is a tree whose crown is a beautiful large crimson heart.
The whole is a great and gorgeous color spectrum.
You 39 ll see depth and a lot of hearts from sharp and juicy red and scarlet to more faded and pale pastel colors.
On the branches stretched on the screen are growing lovely tiny red apple hearts reminiscent rosy cheeks.
Every time you will look at the screen you will blush just like them.
As background are lovely wooden planks in vintage style.
You 39 ve never seen such icons they are brand new in a beautiful deep red and rose colors.
This extraordinary sms theme occurs once in a blue moon!
Learn to look at the world through fantastic rose colored spectacles with ourfabulous heart theme for go sms pro!
This theme contains: wallpaper shows a great cute red heart which is a part of the tree exactly a crown.
On the tree are growing small fruits in the shape of a heart.
As background is used theme of wooden planks changed messages frames to red with green letters easier to read pop up window with the same fabulous red heartsupport themes architect : if you need help with our theme please contact with us on email: themesarchitect our support works only in the english language.
Please contact us in this language because we will solve your problem easier.

Related Apps to Fabulous hearts - go sms theme