English russian word swot for Android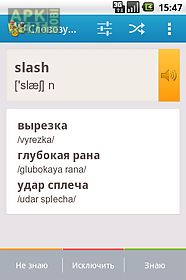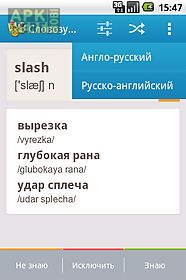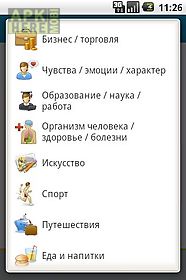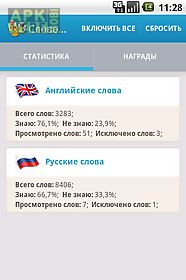 English russian word swot app for android description: English russian word swot is a free application which helps to learn russian independently regardless of the age and level of existing knowledge.
This application will help you not only to extend vocabulary but also to train your memory.
Now if you want to learn russian you may do it anywhere and at any time.
Moreover now you have an opportunity to learn russian for free.
Not one minute of training with english russian word swot will not pass in vain.
The creators of the application made every effort to make learning russian interesting and enjoyable but how quickly you manage to learn it will depend only upon your persistence and diligence.
This application is a small russian english dictionary where words from different areas are depicted.
All you need is to run the application and select the category words from which you would like to study.
The exercises contains both simply and complicated words that is why learning russian with that app would be interesting for people with different knowledge of the language.
If the user has already mastered a word he may easily exclude it from training with one click.
The main principle of learning russian is to remember as much words as possible.
The word to be learned is shown at the screen.
If the user is sure that he knows that word he clicks the button i know.
But if the word is not familiar to him he is to press the button i don 39 t know after that the translation and transcription of the word are displayed at the screen.
Thus it is possible to study russian and english as well.
Also the learner may add other words into the dictionary by oneself.
The english russian word swot is a kind of russian english dictionary that allows everybody to learn russian for free.
Now you can enreach your knowledge of russian language quickly and easily.
So if you want to learn russian but don 39 t wish to spend time for books and tutors then english russian word swot is the exact thing you need.

Related Apps to English russian word swot