Dua e qunoot for Android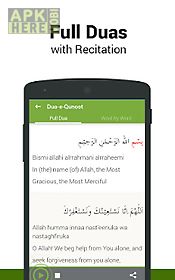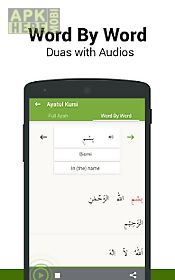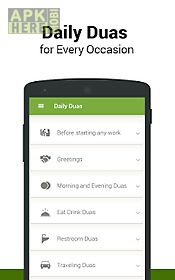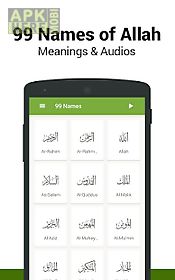 Dua e qunoot app for android description: dua e qunoot is an all in one app in which muslims can learn: dua e qunoot ayat ul kursi last 15 surahs of quran and 99 names of allah ( asma ul husna ) 6 kalma daily islamic duas with translation transliteration and audio recitation.
Dua e qunoot more is specially designed for new muslims (muslim converts) and kids to help them familiarize with quran learning.
This app contains all important duas (witr dua) and short qurani surahs with word by word arabic tutoring method that will help the muslim to learn them without the help of quran tutor (qari).
Following is an overview of the features: - features full witr prayer (dua e qunoot) in arabic along with other reading learning and playing options- ayatul kursi learn and memorize ayat ul kursi with help of translation transliteration and audio- last 15 surahs surahs include surah kauthar surah al kafirun surah al nasr surah al masad surah ikhlas surah falaq and surah al nas.
- 99 names of allah listen and learn 99 beautiful names of allah- 6 kalma of islam tapping on this tab will enable the user to read learn listen 6 basic kalimas of islam.
First kalma tayyab second kalma shaadat third kalma tamjeed fourthkalma tauheed fifth kalma astaghfar sixth kalma radde kufr.
- Daily duas this section embeds the largest collection of daily islamic duas other masnoon duas a muslim should recite on various occasions and events.
Word by word tutoringword by word is a special feature that lets the user to learn the correct pronunciation of arabic words present in ayahs surahs and duastranslation transliteration audiotranslation transliteration and mp3 audio recitation of everything presented in app is given so all muslims can learn memorize and make benefits from this application.
Besides you can customize the app as per your chose preferences bookmark your favorite screens and share them with your friends and family to earn rewards of allah.

Related Apps to Dua e qunoot