Drinking games by wasted fred for Android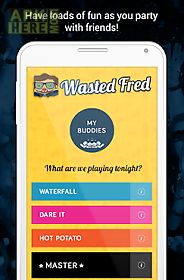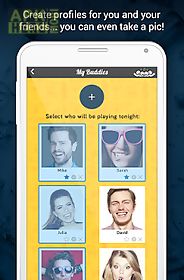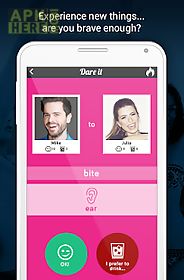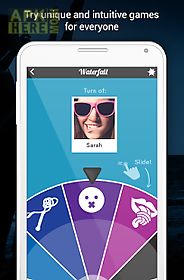 Drinking games by wasted fred app for android description: looking for new drinking games? Planning to host a party and need ideas? Tired of spending time with friends by just gulping down drinks for no reason? Let our great games spice up your party and make your night even more fun!
After years of exhaustive studies (others call it partying) we have extracted the best from each and every popular game and have combined it with new exciting features.
The result? Four enjoyable games that guarantee the maximum fun between you and your friends.
Our games are handcrafted and unique you will only find them in this app and nowhere else.
Don t lose more time download our app and begin enjoying a new way of partying!
Our selected games: dare it: let s get naughty...
Have you ever wondered how it feels to bite your shy friend s neck? To caress her thick long hair? Lick a shoulder? Well now you have an excuse to do it without looking like a total weirdo.
Dare or drink.
Waterfall: spin the wheel and follow the rules if you do not you must drink.
The prisoner the rule i have never ever...
Truth challenge...
Try our spinning wheel!
Hot potato: are you fast enough to answer before the potato explodes on your hands? Are you a drunken snail or a sober gazelle? If you lose you will drink.
Master: haven t had enough? That s because you haven t tried our master game yet.
All that you have been looking for in one game.
More challenges more fun more drink.
Warning: it s really addictive this is why we call it the definitive drinking game.
We continuously work hard investigating new material.
From time to time we add more funny and new drinking games.
Always after a previous testing phase made by ourselves.
We love partying!
Shot after shot beer after beer or drink after drink enjoy it with wasted fred and the funniest selection of drinking games and spicy challenges that you could ever see.
Disclaimer: wasted fred has been created to entertain and not to promote alcoholism.

Related Apps to Drinking games by wasted fred