Drag race: rush for Android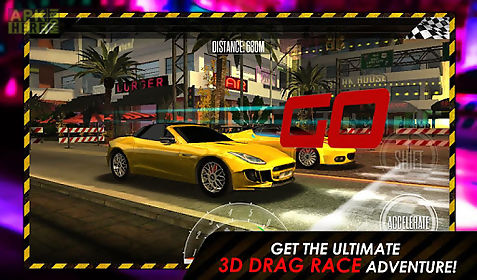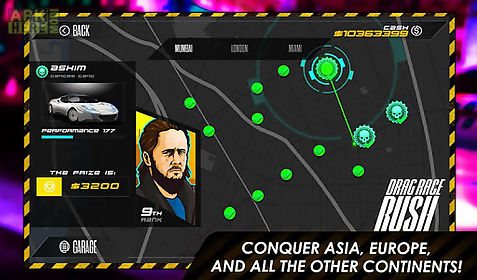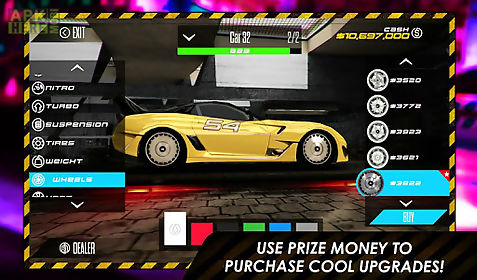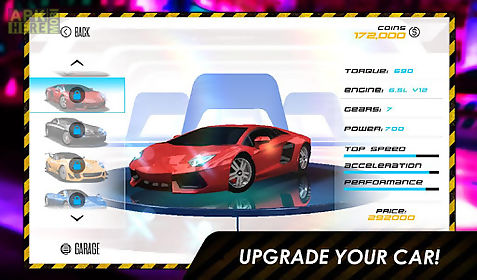 Drag race: rush game for android description: Get ready for the ultimate 3d drag race adventure!
Join the rush of an adrenaline rising in this amazing car racing game.
The world 39 s best drag racer title has been snatched from you gear up and search real revenge as you join speedy driving quests across the globe.
Prove your skills in every corner of the world in this driving game.
Re establishing the fact that you are the real ultimate 3d drag race driver ever!
Svetlana your typical russian mercenary chick with high influences in the underground drag race world is here to stand by your side and help you chase down your drag racing title.
She will give you all the tips and tricks on how to navigate your car to win illegal drag racing rallies in the streets.
First stop is asia.
Then step over to the next continent where all europe 39 s best drag race drivers are lined up.
Finish your quest in america going all the way to colombia.
Finally race your latest enemy in a final drag race.
Game features: explore multiple locals!
Earn coins racing to purchase a variety of upgrades for your car!
Top notch graphics!
Nitrous boosts to pick up the speed!
Addicting gameplay!
Tips at the end of each level!
Prove once again you king of the highway leader of the asphalt and best street racer in the world!
Chase back your title!
Actual reviews awesome game i installed it and i cannot put my phone down!
It 39 s very well made!
I highly recommend it!
Andrei blagaila lazarawesome!
Realy nice game.
For all the petrol heads out there madalin croitorumakes your inner child go nuts what better way to spend an afternoon...
There seem to be a lot of my fav supercars and automotive legends in this game.
Can 39 t wait to race them all : ) michael raddownload now if you like fast driving games racing fast cars customizing cars speed and more!!
This is the best auto driving game you can get!!

Related Apps to Drag race: rush