Customizable countdown widget for Android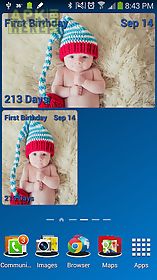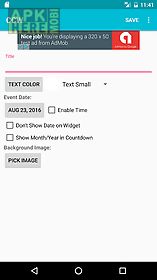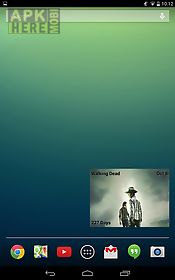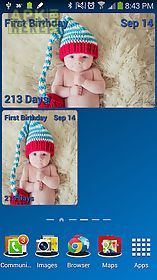 Customizable countdown widget app for android description: Widget that counts down to a special date such as anniversary birthday graduation wedding tv show movie special event etc.
You set a custom background from a picture on your device and can resize the size of the widget.
There are many other options you can set.
Please view the video if you have any questions.
I am going to quickly go through how to add a widget to your homescreen and then give you tips and tricks on how to use the widget.
How to use widgets: in general there are 2 possible ways to add a widget.
So one of these methods should work for you.
The first method is to long press on an empty area of your home screen.
That should bring up a menu.
Choose in that menu to add a widget.
Then choose ccw widget.
The second method is to go to the app menu and there will be a widgets menu at the top that you need to go to.
Then choose ccw widget.
A common issue that users have is that they think the application is the same thing as the widget.
The application is just there to help users use the widget.
If you have any problems with adding widgets please contact me.
Tips for using ccw: 1) you can hide the date from the display if you do not like it.
2) you can enable time to countdown to a specific time.
3) you can show month and year in countdown.
Else it defaults to days.
4) you can create a widget without a background image.
5) you can manually resize the image.
That is useful because i have no way to know the exact size of the widget.
You can play with this if your image is blurry.
Also you can resize the widget to something like 1x- then manually crop the image to fit that space to have a 1x4 image without any blur.
6) if you put a date in the past the widget will still work.
Thanks for considering downloading my application.
Feedback is appreciated.
Please contact me with any issues you are having.
You can contact me through the app through the app store or directly at app.

Related Apps to Customizable countdown widget