Crazy school day - kids rock! for Android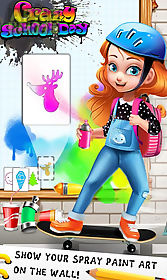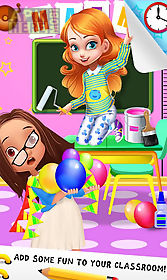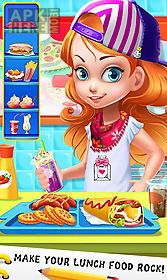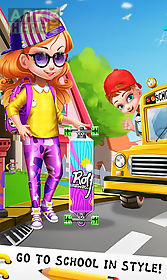 Crazy school day - kids rock! game for android description: It s a crazy day at molly s school where everyone plays by her silly cool rules.
Start by picking out a funky outfit for molly in this upside down and crazy day.
Choose from brightly colored dresses striped socks and creative shoes.
No one is wearing uniforms today!
But the fun doesn t end there.
She ll have to fix the school bus too just to make sure she makes it for the only day that kids rule the classroom.
Change the spark plugs to make the bus go.
Don t forget to fix the flat tire and add new oil.
That bus will be running like a top when molly gets done!
Who says girls can work on automobiles? Then it s time for a new adventure when molly gets to school.
Use spray paint to decorate the hallways and classrooms.
You only get one day to run wild so make the best of it.
Decorate the walls with flowers slogans and cat drawings.
You ll also have a chance to design your own cool locker using markers and stamps.
Show your creations to the world on the one day when molly rules the school.
Product features: fun adventures including dress up school decoration and fixing things try on lots of different outfits for your no uniform day in the classroom show off your unique stylehow to play: tap to choose outfits spray paint colors and stickers swipe to design your own beautiful locker tap and swirl your way to classroom chaos you can find out more with our social media!
Join our fan page on facebook!
Https: baby care inc 202760293257853 or follow us on twitter: https: baby careincif you want to check us out visit our website: https:
Related Apps to Crazy school day - kids rock!