Color grab (color detection) for Android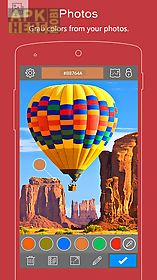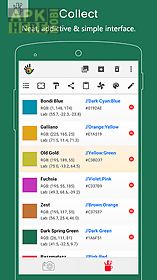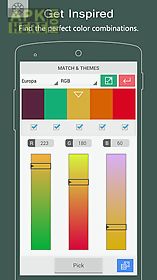 Color grab (color detection) app for android description: Color grab is the ultimate on the go color tool.
Pick capture and recognize colors simply by pointing the camera.
Leading and worldwide used by designers artists professionals developers and color blinds.
1 must have app for designers artists.
Free (no ads)!
Key features: real time color detection.
Extract colors and maps from your photos.
Color recognition (color 2 name).
Color palettes and themes generation tool.
Colors blending tool mix colors.
Tune tool refine your colors.
Find the perfect color combinations.
Discover and reveal matching colors.
Color locking indication.
Quot instant picking tap 2 capture.
Viewfinder smart processing.
Supports most common color models (rgb hex hsv lab see below).
After shot color analysis.
Various export options (to photoshop illustrator paintshop gimp inkscape autocad etc).
Color conversions.
Accessibility hear the color by pressing the volume buttons.
Copy color to clipboard.
Share colors with friends.
Paint your wallpaper background with a solid color.
Additional controls: turn flash light in low light conditions.
Smart color stabilizer.
Smart color locking mechanism.
Motion sensed auto focus.
Zoom control.
White balance control.
Camera switching (use rear or front).
Supported export options: adobe photoshop and illustrator samples png image corel paintshop coreldraw gimp inkscape autocad krita cinepaint textsupported color models: rgb hex hsv hsb hsl lab greyscale lightness darkness web safe cmyk cie xyz cie xyy hunter lab luv lch(uv) lch(ab) yiq yuv sd hd ycbcr sd hd ypbpr sd hdjust grab it loomatix team.

Related Apps to Color grab (color detection)